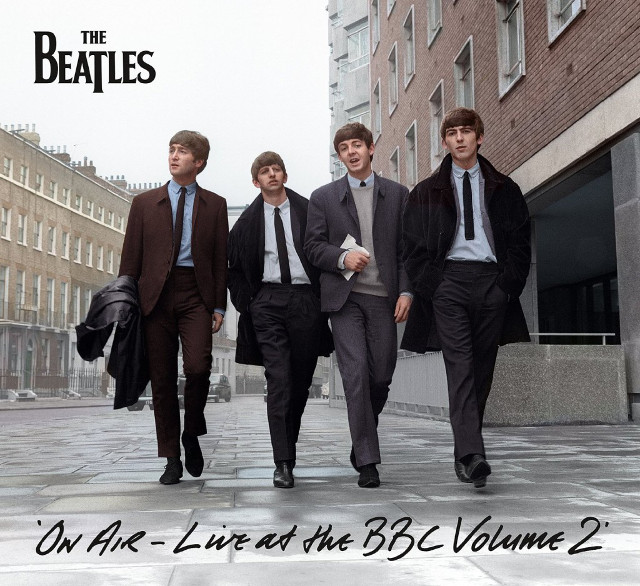 Nel 1994 la Apple Records pubblicò Live at the BBC, raccolta che conteneva le esibizioni radiofoniche dei Beatles registrate tra marzo 1962 e giugno 1965. Ora è in arrivo il secondo volume, che conterrà altre chicche risalenti al periodo tra novembre 1965 e maggio 1966: On Air – Live at the BBC Volume 2 uscirà l'11 novembre per Columbia Records.
La raccolta sarà composta da 63 brani divisi in due dischi: 23 tracce con interviste ed introduzioni ai pezzi, e poi i primi successi come She Loves You, Please Please Me, I Wanna Hold Your Hand, And I Love Her e This Boy.
Inoltre la compilation segnerà il debutto ufficiale di alcune delle celebri cover con cui la band riempiva il suo repertorio agli inizi: Beautiful Dreamer di Stephen Foster, una versione di Lucille di Little Richard registrata dal solo Paul McCartney, e I'm Talking About You di Chuck Berry. Ci sarà spazio anche per una versione di Happy Birthday che i Fab Four registrarono per celebrare il compleanno dello show della BBC Saturday Club. La collezione è completata dalle note di copertina dell'ex produttore della BBC Kevin Howlett , che ha scritto nel 1996 il libro The Beatles at the BBC – The Radio Years 1962-70.
Secondo quanto riportato dal New York Times, le performance registrare per la radio nazionale inglese "rappresentano lo stile del gruppo dal vivo e mostrano quel tocco in più che alle loro produzioni in studio a volte mancava". Inoltre, anche se alcune delle registrazioni della BBC sono state fatte alla presenza di un pubblico, la maggior parte di queste sono comunque libere dalle "tipiche urla isteriche che si potevano ascoltare ai concerti dei Beatles e che sono presenti anche nelle registrazioni dei concerti più importanti del quartetto di Liverpool ".
In attesa di poter ascoltare il secondo capitolo, qui sotto trovate lo streaming integrale di Live at the BBC – Volume 1.
Di' la tua
commenti
Powered by Facebook Comments